NDT & ADVANCED
INSPECTIONS
Magnetic and Liquid Penetrant Inspection (MPI & LPI)
Ultrasonic Testing (UT)
Eddy Current Inspection (ECI)
Phased Array Ultrasonic Testing (PAUT) including DMA & DLA, Flange & Bolt Inspection
Corrosion Mapping including High Temperature up to 350°C
Time of Flight Diffraction (ToFD)
Magnetic Flux Leakage (MFL) for Tank Floor Inspection & Pipe Scan
Tube Inspection (IRIS, ECI, RFT, MFL)
Alternating Current Field Measurement (ACFM)
Pulsed Eddy Current (PEC)
Eddy Current Array for Tubes and Surface (ECA)
Visual Inspection (VI) including 3D Videoscope Thermography
3D Creaform Laser Scanning
Hardness, Holiday, Ferrite Count & PMI Testing and Material Sorting
Post Weld Heat Treatment (PWHT)
SITE MECHANICAL &
MAINTENANCE SERVICES
In-Situ Machining
Bolt Torquing / Tensioning
Pipe Cutting and Prepping
Hot and Cold Tapping
ROPE ACCESS
INSPECTIONS (Onshore & Offshore)
Rope Access Radiography / Digital Radiography
Rope Access UT, AUT, (PAUT, ToFD) & Corrosion Mapping
Rope Access Crane Inspection
Rope Access Insulation Removal
Rope Access Mechanical Services

ABOUT
US
Who is Pretect ?
Prevent and Protect W.L.L. specializes in maintenance, inspection, intervention, mechanical support and rope access services, providing the operational knowledge to customize long-term solutions to asset integrity needs.

PRETECT assists oil and gas companies by offering maintenance, inspection and a variety of mechanical support services. An organization headquartered in the Middle East and focused fully on the Middle East market.

The PRETECT name is a word combination of "Prevent" and "Protect" – the two key benefits we offer your organization. PRETECT provides foresight that allows our customers to pre-empt problems, prevent risks and protect operations and assets.

Over the last thirteen years, the company has earned an unparalleled reputation for delivering best results by offering premium quality services and adhering to highest safety standards.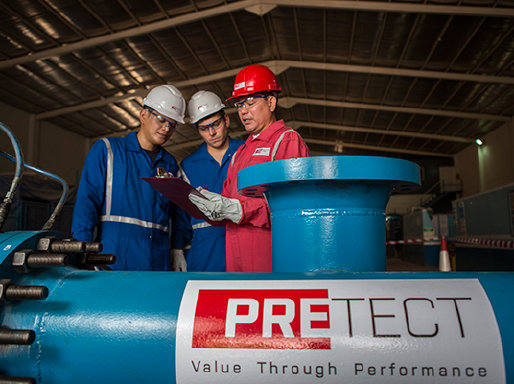 Our preferred method of delivery is to form long-term partnerships, alliances and joint ventures with organizations who add value to our business through their long-established reputations and relationships with oil and gas operators and first tier contractors.

PRETECT team is always available and responds quickly and efficiently, offering maximum advantage to clients through delivery of premium solutions that maintain operational uptime. These combinations of easy accessibility, quick response time and unrivaled efficiency has positioned PRETECT as a leading support partner to the region's energy sector.

PRETECT constantly identify and invest in new equipment and technologies which allows us to deliver on our promise of VALUE THROUGH PERFORMANCE.


OUR
VALUES
PRETECT Guiding Principles
Our goal is to be a preferred partner in the Oil and Gas industry in providing value-added solutions by delivering services with the highest level of Health, Safety and Quality with utmost regard to the protection of our working environment.